OLSRUD FAMILY COMMUNITY PLAYGROUND AT BEAR CREEK PARK
The Medford Parks and Recreation Department teamed up with JWA Public Affairs, the Medford Parks and Recreation Foundation, the Medford School District, and playground manufacturer Leathers, Inc. to help replace the well-loved playground at Bear Creek Park.
Rejuvenating the 30-year-old wooden fort-like structure along Siskiyou Boulevard with a similar style using modern materials was identified by the Department and the Medford Parks and Recreation Commission as a high-priority capital improvement project for the 2017-19 funding cycle.
The original playground was installed in 1987 following an extensive fundraising campaign and an all-volunteer construction effort consisting of hundreds of donors and volunteers spearheaded by the Kiwanis Club of Medford, the Family Connection, Inc., and the City.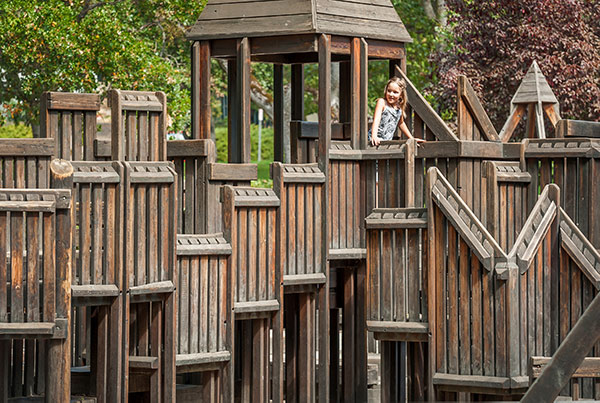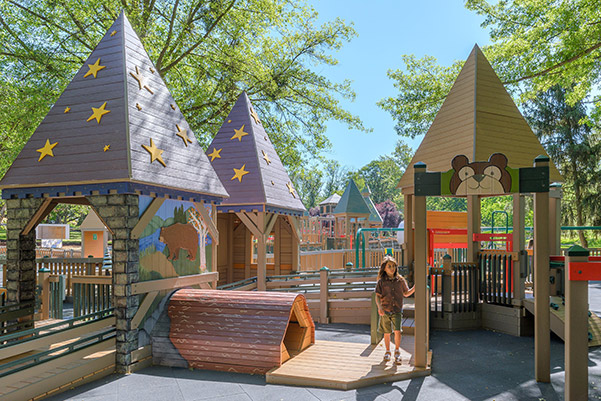 Help us make the new Bear Creek Park playground the best it can be with a TAX DEDUCTIBLE CONTRIBUTION!
This project in meant to be a community financially supported project, so an opportunity has been developed to get your name or your company's name on the park for years to come.  Whether you can afford to donate a little or a lot financially, there's a giving opportunity designed just for you!
Each picket you purchase will have a name you designate engraved on it! 
Please Note: Pickets purchased going forward will be ordered in small groups as they are received.  These groups can take between 30-45 day once received to be printed and installed at the Playground.
Every gift counts and makes a difference in your community!
Project Contacts
Media Coverage
Playground Feature Sponsors (as of October 22, 2018)
The Sherm & Wanda Olsrud Family
Rogue Credit Union
Al & Sally Densmore
Rich & Jackson Rosenthal
Coquille Indian Tribe
Jim & Lindsay Berryman
Lithia 4 Kids
Frisk Family Trust
RH2 Engineering
KOGAP
Rogue Disposal & Recycling
Bob & Phyllis Strosser
Gary & Annette Shaffer
Blum Family Foundation
Medford Kiwanis Club
First Presbyterian Church
The Bunn Family
Medford Rotary Club
Medford Rogue Rotary Club
Bear Creek Valley Rotary Club
Upper Rogue Rotary Club
After 5 Rotary Club
People's Bank
Asante
John & Nora Darby Heart Fund
Rogue Disposal
Medford Education Association
Bob & Janda Ames
Umpqua Dairy
John & Cathy Watt
Avista Foundation
Betty F. Root
The Shaffer Family
Pacific Power Foundation
State of Oregon Parks and Recreation Department
Jacksonville Applegate Rotary Club
Ascension Lutheran Church
Southern Oregon Pediatric
Knife River Materials
Lowe's
United Rental
Carpenter Foundation
Dr. Marlan Morse
Oregon Community Fund
Darex
Umpqua Bank
CareStream
Rich Todd
Kohl's
S&B James Construction
PacificCorp Foundation
Home Depot
Southern Oregon Pediatrics
Bennion Orthodontics